Peter Cobb - Registered Massage Therapist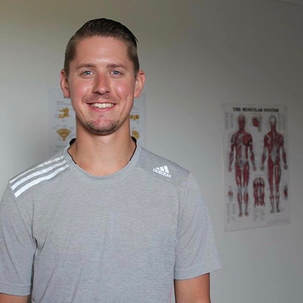 Peter graduated from Brock University with a Kinesiology degree in 2009, he pursued further education to become a Certified Athletic Therapist in 2012 and a member of the College of Massage Therapists of Ontario in 2013. Peter is a Registered Massage Therapist that has over 6 years experience treating clients of all ages with varying injuries and conditions.

He strives to determine the root cause of his clients pain/discomfort and creates individualized treatment programs incorporating such techniques as trigger-point therapy, myofasical release, joint mobilization, stretching and targeted strengthening exercises. To address the chronic tension and postural related needs of many of his clients, Peter has taken further courses to provide the NISA technique, a gentle approach designed to release fascial adhesions, improve structural alignment and provide long-lasting changes to poor posture.
Using his extensive knowledge of biomechanics and sport related injuries, Peter has also worked with many junior level athletes including but not limited to Hockey, Lacrosse, Football and Tennis players and volunteered on the Medical Team for the 2015 Toronto Pan Am Games. It is no surprise that on his free time Peter enjoys staying active, he can be found on the hills mountain biking and snowboarding, on the ice playing Hockey and travelling the globe camping, hiking and even scuba diving.
Peter is passionate about helping his clients make positive, informed decisions about their longterm health, wellness and optimal performance.
​
Peter's Schedule