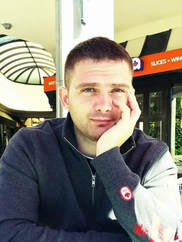 Predrag is a
Registered Massage Therapist
who graduated
Graduated Sports Therapy in 2015 from the University of Birmingham (UK).
He w
orked with athletes and clients as Personal Trainer and Strength Coach to optimize physical performance by implementing sport science principles and injury prevention strategies.
In 2017 graduated from the Canadian College of Massage and Hydrotherapy. Predrag is a strong believer in preventative medicine, patient education and self-care.
He strives to deliver individualized, patient-specific and comprehensive treatments by utilizing range of Swedish massage techniques and remedial exercise.
He is a member of College of Massage Therapists of Ontario and Registered Massage Therapists' Association of Ontario.
In his free time he is a fitness enthusiast and loves the outdoors and travelling.
​
Predrag's Schedule
MON

-
-

TUES

-



WED

-
-

THURS

-

FRI SAT SUN

- - 10:30am - 4pm