Acupuncture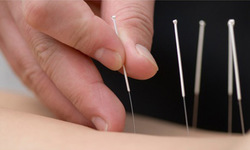 Acupuncture
is an alternative medicine methodology that treats patients through the use of thin, sterile, solid needles. The needles are inserted into traditional acupuncture points to enhance the body's nervous system response by correcting imbalances in the flow of 'Qi' through channels known as meridians. Disruptions in the flow of energy are believed to be responsible for health imbalances.
Acupuncture
helps return the body to its natural balance and promote its ability to heal itself.
What Acupuncture can do for you?
Acupuncture is used to encourage natural healing, improve mood and energy, reduce or relieve pain and improve function of affected areas of your body. Our
acupuncture providers
(Want to meet them?
Albert,
Courtney
,
Jessica
,
and Christa
) are professionals trained in this safe and effective treatment option for targeting deeper tissues.
What to expect at your Appointment
Before your treatment begins, your health practitioner will take detailed health history and physical examination to see if you can benefit from acupuncture. Your consent and comfort is always acknowledged prior to any needling.
Needling techniques should be painless however there may be increased sensitivity and awareness during and/or after the treatment from a heightened mind-body response. Occasionally, electro-acupuncture will be used to increase the stimulation response to the nervous system.