Osteopathy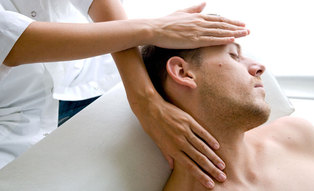 Osteopathy is a manual therapy that treats all parts of the body such as muscles, ligaments, nerves and joints. It focuses on balancing the body to achieve homeostasis and well-being.
Osteopathic therapy is a holistic approach to your health. It is a "A natural medicine which aims to restore function in the body by treating the causes of pain and imbalance. To achieve this goal the Osteopathic Manual Practitioner relies on the quality and finesse of his/her palpation and works with the position, mobility and quality of the tissues."
What can Osteopathy do for you?
Osteopathy
addresses the core underlying imbalance in the body when illness or symptoms arise. Our osteopath's treatments gently and effectively strengthen the nervous system and encourage the body to heal itself. The benefits of osteopathy include, improvement in mobility, circulation, lymphatic systems function, and the structural stability of the body.
What to expect at your Appointment
Our Osteopathic practitioner conducts a thorough assessment gathering information about your personal symptoms and health history (
Want to meet him? Click Here!
). Our expert will then give a recommendation for a specific treatment plan catered to specifically target your needs.