Eric Chan - Registered Massage Therapist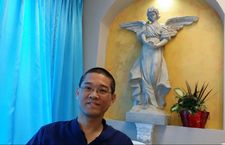 Eric is a
Registered Massage Therapist
and
registered acupuncturist
in the province of Ontario. He attended and trained in a college of Ontario and passed the examination. He got a license and start to practise his professional career in Ontario since 2013. Eric also learned Traditional Chinese Medicine and Acupuncture from his family. His grandfather and father were Traditional Chinese Medicine Doctors in China and Hong Kong. Eric also studied Traditional Chinese Medicine in University in China for 4 years program and completed in 1993.
Eric is a professional member in good standing of both The College of Massage Therapists of Ontario (CMTO) and The College of Traditional Chinese Medicine Practitioners and Acupuncturists of Ontario (CTCMPAO). His vision aims at providing sincere and honest care with the provision of a high quality of professionalism. He strives to listen deeply to the needs of every patient and provides a sense of trustworthy and compassion. Many patients feel rushed by their healthcare providers but Eric takes his time with each patient. He believes that combining a caring relationship with traditional treatment skills make for the most effective healing process. He strongly supports the integration of Eastern and Western medicine in treating illness and maintaining the best health possible. By integrating wellness, patients get the most comprehensive care and the best outcomes possible.
Eric specializes in treating depression, anxiety, insomnia, stress and a variety of pain disorders, i.e. headaches, migraine, neck, shoulders, lower back pain, muscle spasm and cramps, muscle sprain and strain.
Eric's Schedule
MON

-
-

TUES

-



WED

-
-

THURS

-

FRI SAT SUN

2:30pm-730pm - -