Chiropractic Care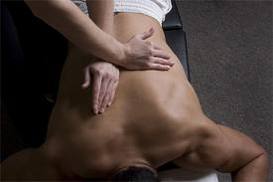 Chiropractic is a regulated health profession specializing in the diagnosis and treatment of musculoskeletal conditions. Our chiropractor's objective is to deliver sustainable, natural, and preventative health care to empower your body's innate ability to heal and flourish.
What can Chiropractic Care do for you?
Our clinic offers exceptional care from our experienced chiropractic professional that is safe and effective.
(Want to meet him?
Dr. Albert Huang
)
Chiropractic
can help with low back pain, neck pain, sports injuries, headaches, sciatica, sprain, strains, and more. Our
chiropractor
offers a wide range of manual therapies consisting of spinal manipulation, muscle release techniques, joint mobilizations, exercise-rehabilitation, stretching protocols, postural advice, acupuncture, and more.
Your central nervous system composed of your brain and spinal cord is the power house to all bodily functions. Having a strong, healthy, and aligned spine is required for optimal performance and well-being. Get your spine check today!
What to expect at your Appointment
Before the course of treatment, a detailed history and physical examination will be conducted with your
chiropractor
. The purpose of the examination is to provide clinical information for the doctor to make a diagnosis. Based on the diagnosis, treatment plans are designed specifically to fit each individuals needs.
Why Chiropractic Care Works?
During times of injury or chronic stress, our bodies can break down and not function properly. This can lead to symptoms of fatigue, pain, limited mobility, and muscle tension. Our chiropractors goal is to find the root cause of your problem(s) and correct them through manual therapy techniques and rehabilitation repatterining.
Our bodies are self-regulating organisms that are designed to heal themselves. With a little help from our chiropractic treatments, your nervous system can be optimized for healing and
stronger performance.