Dr. Albert Huang, Chiropractor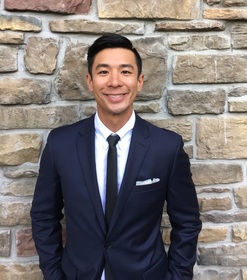 Albert Huang is a licensed Chiropractic doctor who graduated from the Canadian Memorial Chiropractic College [CMCC]. He completed his undergraduate studies at York University where he attained a Specialized Honors Degree in Kinesiology and Health Sciences. He is a graduate from the McMaster University Contemporary Medical Acupuncture program and is a certified Medical Acupuncture provider.
Dr. Huang is a diversified
chiropractor
specializing in musculoskeletal health, exercise rehabilitation, and wellness care.
He is a manual therapist with a holistic mindset that believes the body was designed to heal itself.
His treatments and techniques include but are not limited to; spinal manipulation, muscle release techniques, joint mobilizations, acupuncture, Thompson Technique, Functional Release (FR), custom orthotics, cranio-sacral techniques, visceral manipulation, Activator Methods, kinesio-taping, and exercise prescription.
He is a member of the Canadian Chiropractic Association (CCA) and Ontario Chiropractic Association (OCA). He is committed to providing safe and integrative care to his patients to optimize their health and well-being. Albert values the importance of functional movement and aims to improve motor patterning and performance through his therapies.
Albert is also a certified personal trainer and and is a fitness enthusiast. His hobbies include cycling, tennis, golf, snowboarding, reading, music, and travel.

MON

10am-12:30pm
3pm - 7pm

TUES

9 am - 1 pm
3 pm - 7 pm

WED
​
9 am - 1 pm
3 pm - 7pm

THURS
​
9 am - 1 pm
3 pm - 6 pm

FRI SAT SUN

9 am - 1 pm 9:30am-1pm -
(alternating)